Welcome!
We're so excited to welcome you to our new blog! Here we will share with you our food inspiration, behind the scenes moments, real events and more! We're so excited to take you with us on our journey in designing culinary experiences where memories are made and palates are happy.
CrEATing vibrant cuisine, full of life, and often whimsy, is not just something we do, it's something we live for. We strive to bring stellar food and killer customer service to every event. It's a labor of love, where years of experience and passion have helped forge us into the trendsetting catering company we have become today. For our FIRST blog post, we thought, let's take it back to the first year, or better yet, the first night…
It's All in a Name
Jim (Exec. Chef & Owner) and I (Melissa, Event Director & his better half Owner) spent months and months carefully crafting a tasting menu for a dinner party. We sketched out plating ideas, concepts and scribbled recipes on note paper; we talked and talked about different approaches and went back and forth on the right number of courses.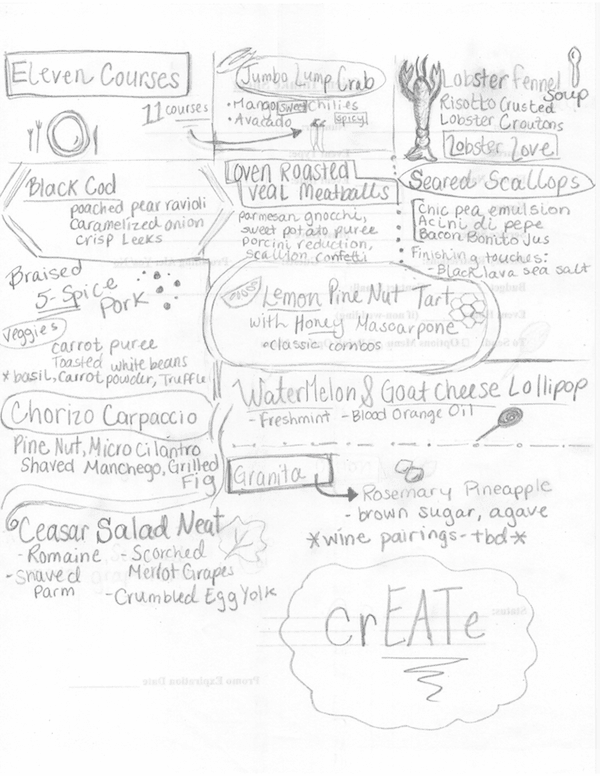 Finally, we felt like we achieved complete menu perfection - the menu was eleven courses. Each course set a foundation and built upon the next and at the end, the meal came full circle. We felt inspired and energized and most importantly, in love. We were in love with it all. Planning and designing the delicious menu, watching the expressions on our guests faces as we introduced each new course, the surprise in the air as our crEATive presentations were brought to life, it had us like --- whoaa. We knew we would never be the same and this was what we were meant for - so we launched Eleven Courses. Those, two words, our namesake brings us back to the night that started it all – every time we hear it, every time we read it, every time we write it and every time we say it…
<3<3<3<3<3<3<3<3<3<3<3
Melissa
Eleven Courses
Catering & Event Co.